RV Camping Packing List
September 12, 2020
It has been YEARS since I had been camping, but since travel options are very limited in 2020, we thought a camping trip would be a great way to get out! We found a place we could rent from and started thinking about where we would go. There was definitely a lot of planning put into this trip, but it was all worth it. In some future posts, I'll review the RV we rented and where we stayed. For now, though, we're just going to talk about our camping packing list.
Disclaimer: This post contains affiliate links. I can earn from qualifying purchases at no additional cost to you. As an Amazon Associate, I earn from qualifying purchases. Thank you for your support..
Our trip was scheduled for the beginning of August. Weather can always be an issue. Will it rain and storm, or be 110 degrees out? It was PERFECT!! We went up to Muskegon, Michigan. The weather was great, there were hardly any bugs (which is huge for me), and we were right next to Lake Michigan! But, let's go back to before the trip when I started planning it.
I started our planning by finding the RV. We used Cruise America, and they have a handful of locations around the Chicago area, which was the closest to us. Then we had to look for a campsite that was available the dates a camper was. There was a lot of going back and forth trying to match the two. Apparently, LOTS of people had this idea!
Our camping packing list!
After all that boring stuff was done we got to start really preparing for the trip. I had been compiling a packing list for awhile. We used Teams, but you could easily use Google Drive or something like that. It allowed us to make real-time changes and see who was bringing certain things. If you had something that was on the list, you highlighted it your color. The tricky part was, we were coming from Iowa and going to Michigan. It wasn't like we could just pick it up, drive it to our house and then load it up. My mother and I had to fit everything we were bringing into one car.
As far as our camping packing list goes, I'm working on putting together a detailed list that you will be able to get! In the meantime, I'll just talk about a few things you definitely need to remember when you go on your RV camping adventure! I know I can get a little carried away with my planning, but there were very few things on our list that didn't end up getting used and those were mostly food related or medical (thank God).
Tools
I realize you're not going to be building anything, but you'll almost always need a few of these! A hatchet is great for helping prepare that firewood. Extension cords also came in very handy. We didn't have an outlet on the outside of our RV, so when we needed something plugged in outside, we would be able to just run a cord over to the electrical box for the site. Pliers and wrenches also came in handy a few times! Rubber gloves are a necessity, especially if you're going to have to be emptying the waste from your vehicle (TRUST me).
Medical & First Aid Packing
Well, if you have read my post specifically about travel first aid/medical kits, then you know how serious I take this! Obviously, we have all the bandage-related items. As far as medicines go, I like to be prepared! I've spent too many trips when I was younger not feeling well to not be fully prepared to help prevent that. For a trip like this though, you'll definitely want to make sure you've got all those things for allergies, poison ivy, and any prescriptions you might need since a pharmacy might not be just down the street.
Bathroom
Of course, you'll need important things like toilet paper and your regular toiletries. Then there's your towels, soap, etc. One thing that we didn't find out we needed until we were at the rental place was toilet treatments. This is something that you put down the toilet to help break everything up inside the system. We found it in a liquid form, but there are also little pods you can use as well! At least in ours, the toilet is raised higher off the ground, which made it difficult for the kids to get up, which is why I'm glad we also had brought a foldable step stool. And don't forget those flip flops! There were bathrooms/showers at the campground so we would use those often and you don't want to be walking around in there barefoot.
Sleeping
For a setup like this there a couple different sleeping options. We went the sheet and blanket route, and the kids went the sleeping bag route. Don't forget your pillows! My brother wanted to sleep outside in a tent, so he also brought one of those and an inflatable mattress (if the pumps not built in, don't forget that). A random item we brought was a cot. Originally we brought this because the girls were used to sleeping on it when they visited my mom. However, it came in very handy outside. The girls would rest on it or one of us might have used it to get comfortable and read on. I was glad we had it!
Cleaning
You may not think you need much cleaning supplies when you're going camping, but when you're in an RV they're very important. Not only do you want to keep it somewhat clean while you're using it (unless you're the messy kind of person), but before you return it you'll have to give it a good cleaning. Brooms are probably one of the most used items. We would just sweep everything in the RV right out the door, and we used it to sweep our mat outside, which was helpful.
We brought Sparkle cleaner, disinfectant wipes, Swiffer floor sweepers, and paper towels. Don't forget those trash bags/can either!
Kitchen Items
Since you actually have a kitchen with the RV you'll need those pots, pans, and associated utensils. Bowls, plates, cups, mugs, and silverware are also needed. You can do reusable ones or disposable ones. We had both. The good plates we would use for our meals and the paper ones would be for smaller items. Same with utensils. We had both. Obviously, the reusable ones are better for the environment, but they need to be cleaned, so unless you have something set up outside, your tanks could fill up faster than you'd like and you'll have to go to the dump station. If you're washing dishes inside, put a bowl in the sink to catch the water, and then dump it outside.
We were very glad we brought my kitchen griddle. Even though we would need power for it, it was so helpful with making the pancakes, bacon, and other items. This was when that extension cord came in handy because we could set it up outside on our prep table. We also found that we could have used a microwavable dish, something like a glass square dish.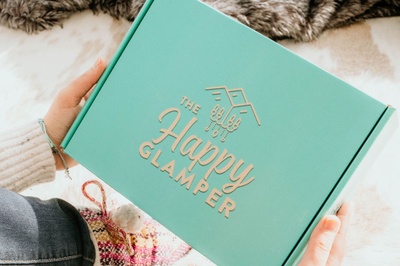 The Happy Glamper Subscription Box
Packing List for Outside the RV
Now for all the random things outside. The first thing I would recommend is a large, outdoor mat that you can put outside your door. This gives you an area where to keep shoes and other things. We brought a canopy tent to put over the picnic table. Due to my sensitivity to bug bites, we also found this awesome screen tent so I could sit in there and be more protected but still be a part of everything.
We had one smaller foldable table that we used as a table just for the girls, and then another one that we could stand at to prep food. Obviously, you'll want chairs to put around the fire, as well as all those other items needed for the fire. Our chairs had tables on the side, and that was great to have. We also brought a poker stick from the fireplace at home to use to stir the fire up and gloves that could be used around the fire. There were certain food items that we cooked next to the fire, so those, and longer tongs came in handy. More experienced campers might tell you to bring a dutch oven and other ways to cook your food on over the fire. Instead, we just brought a small grill.
Bug spray and citronella candles are always great to have on your camping packing list. I also found these little bracelets that were great added protection for me. They actually worked great with the flies on the beach. We had lights on the outside of the camper so we didn't bring any, but if we were going to be there for a while, I probably would have brought some lights to string up around the trees.
Don't forget bug spray on your packing list!
As for drying things, we brought a line and clothespins, but our tree set up wasn't great for that. I saw a bunch of other people had those foldable clothes drying racks. That would absolutely have been a better option. I also had every intention of bringing clips to hold the table cover down, but alas they didn't make it in my bag. The last thing I'll mention is one of those foldable kids' wagons. I know a lot of baseball parents that use those. It was extremely helpful! We could use it to get more firewood, take the beach stuff to the access point, or take the trash to the dumpsters.
There are two things we saw at the campground that could be useful if we were doing this more regularly. One thing was a filter on the water tap where you connect the hose, or you could put it on the faucet in the kitchen. The other thing was a portable waste container. We ended up having to move the camper during our stay to go to the dump station. Many of those that clearly have MUCH more experience at this than us had one of these. You could then either just pull it over, or most people I saw hooked it to the back of their trucks and pulled it over.
There you have it. It's not the whole packing list, but it's some takeaways. All in all, we had a great time. Even though this trip was difficult for me, health-wise, it turned out to be a great experience. I will work on putting together a camping packing list, and details about our Cruise America rental and campground.
What are some of the essentials that you make sure you always have on your camping packing list?
Don't forget to follow me on Instagram or Facebook for even more photos and details about my journeys! If you enjoyed this post, please pin it and check me out on Pinterest as well! Thanks for reading!
You May Also Like
September 12, 2022
March 29, 2020