100 Christmas Gifts for the Traveler
November 16, 2020
Christmas time is right around the corner. It's one of my absolute favorite times of the year, and I pride myself on my gift-giving. If you have a travel lover in your life, this has been an especially tough year for them! So I've put together a list of ONE HUNDRED ideas of gifts for the traveler in your life! Don't stress over gift-giving this year, we've all got enough going on! Instead, find a great gift and then focus on some other fun elements of the season, like watching Hallmark movies or making/eating cookies! (You could also just check out some of the items on this list for yourself, I won't tell!)
Disclaimer: This post contains affiliate links. I can earn from qualifying purchases at no additional cost to you. As an Amazon Associate, I earn from qualifying purchases. Thank you for your support.
Subscription Boxes
Who doesn't love yummies? Universal Yums is a subscription box company that sends a box of snacks and candies from a different country every month. They directly source unique, delicious snacks from the featured country of the month and provide a comprehensive, interactive guidebook inside every box. There are three different sized boxes, from 6 – 20 treats, pick the size that's best for you!

Super Yum Box
2. Outer Banks Box – It's not like I've ever mentioned that I love the Outer Banks before? If you miss visiting the OBX, or if you want to get a taste of these beautiful communities, give this box a try! This box is shipped four times a year (Mar, Jun, Sep, Dec) and features hand-selected items from local OBX businesses. My heart got really happy when I saw this!
3. The Wanderlust Box – This quarterly box is full of style, travel, beauty and fitness items from unique brands around the world. Each box's theme is based on an iconic beach destination, such as Bali, Hamptons & Santorini. Curated with beach lovers in mind (like me).
4. The Happy Glamper Box – Becoming One with Nature Shouldn't Have To Involve Suffering. This box features a different regional theme each month, with products from local artisans and luxury glamping gadgets! You can count on 4-7 items in each box for you to Glamp in style.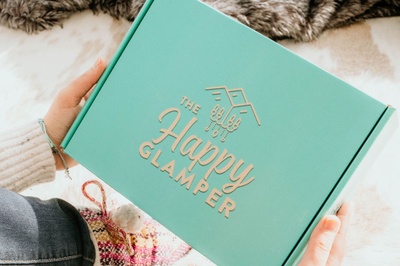 At Home Gifts for the Traveler
5. Polar Bear Post-It Dispenser
6. Photo Albums
12. 3D Wood World Map Wall Art
14. United States Ice Cube Mold
16. Koala Planter
18. Scratch Off Map
Gift Cards
Drink-Up Gifts for the Traveler
21. Top Handle Travel Two-Bottle Wine Carrier Case
25. Collapsible Portable Straws
27. Map Coffee Mug
Packing Gifts for the Traveler
28. Benjilock TSA Luggage Lock
30. Ice Packs
31. Cooler Backpack
32. Shoe Bag
34. Portable Personal Mini Oven
Gifts for the Pet Loving Traveler
37. Gorilla Grip Waterproof Dog Car Seat Cover
38. Vault Pet Food Travel-Trainer Kit
39. Airline Approved Pet Carrier
Travel Accessory Gift Ideas
42. EverSnug Travel Blanket and Pillow
45. Airplane in Flight Phone Mount
46. Heated Fleece Shawl Cape Blanket
47. Six Piece Stainless Steel Reusable Flatware Set
48. Camping Hair Don't Care Hat & Mug
52. Phone Charging Passport Holder
53. Travel Hangers
Outdoor Gifts for the Traveler
56. Wekapo Inflatable Lounger Air Sofa
57. Brazilian-Style Indoor Outdoor Cotton Double Hammock
58. Personal Battery Operated Neck Fan
61. doTERRA – TerraShield Spray Outdoor Blend
63. Cliganic Mosquito Repellent Bracelets
64. Fox River Mills Wick Dry Sock Liners
65. Nezylaf Clip-on-Phone Handheld Fan
Health & Beauty Gifts for Travelers
66. Censung Portable Mini Refillable Perfume Bottle
67. Neutrogena Makeup Remover Facial Cleansing Towelettes
68. TravelJane Disposable Urinals
69. Toilet Seat Flushable Covers
70. Nano Facial Mister Ionic Cool Mist Sprayer
71. Wellness Essential Oil Roller Set – Dream, Fresh, Shield & Head Ease
72. The Original MakeUp Eraser
73. Collagen Crystal Pink Lip Care Gel Masks
74. Beauty Planet 20X Magnifying Mirror with Light
75. Massage Ball for Deep Tissue Massage
76. Jade Roller & Gua Sha Face Roller
Technology Gifts for the Traveler
79. GoPro HERO7
80. SoundPEATS True Wireless Earbuds
81. Professional Camera Cleaning Kit for DSLR Cameras
82. Xenvo Pro Lens Kit for Phone
83. Hand Held Portable Travel Garment Steamer
84. Tripod for Phone, Camera & GoPro
85. Anker PowerCore Portable Charger
86. Sleep Headphones Bluetooth Headband
87. Veatree 58mm Lens Hood Set
88. SANAG Portable Bluetooth Speaker
Jewelry Gifts for the Traveler
89. Tgirls Fashion Airplane Hair Clip
91. Live Free and Fly Airplane Necklace
Creative Side Gifts for the Traveler
92. Vintage Retro Old Travel Postcards
93. Splendid Cities: Color Your Way to Calm Coloring Book
94. World Map Bags with Stickers
96. Elegant Blooms & Things Travel Sticker Book
98. Lonely Planet Ultimate Travel Coloring Book
99. Essentials Travel Planner Stickers
100. U.S. National Parks Postcard Set
So here you go, 100 gift ideas for the travel lover in your life! Is there something on the list that you love? Or something that you think should have definitely made the list? What are you wishing for this Christmas?
Don't forget to follow me on Instagram or Facebook for even more photos and details about my journeys! If you enjoyed this post, please pin it and check me out on Pinterest as well! Thanks for reading!
You May Also Like
July 16, 2019
October 28, 2020
March 1, 2020